There's a meme going around on social media that looks like this: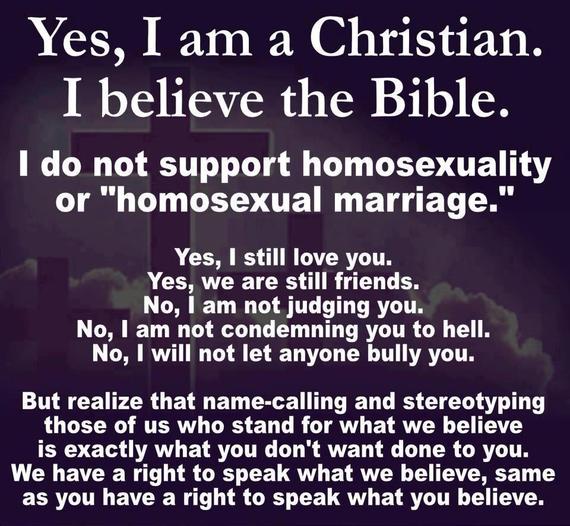 A recent Huffington Post article, "
The Myth of Christian Discrimination in the LGBT Rights Movement
," did a pretty nice job of explaining some of the key problems with this meme. But there are things I wish the article would have said--and there is a grain of truth in the meme that I want to acknowledge.
Let me start with the grain of truth. There are Christians out there--I've known many of them--who are sincerely committed to the love command of Christianity, who sincerely wish to show love for their gay and lesbian neighbors, who have no phobic response to homosexuality, but who are convinced of two things: first, that "the Bible" (scare-quotes explained in #3 below) clearly condemns all gay/lesbian sex; second, that anything clearly condemned by "the Bible" is immoral.
In some cases, the Christians I've know who fit this description seem to wish quite sincerely that the Bible didn't say what they take it to say--because they are uncomfortable with the implications. They have gay friends and, while trying to avoid the subject when they can, feel that their allegiance to their faith demands that they call all gay/lesbian sex wrong when asked. They say, almost apologetically, "I'm just saying what I believe. It's nothing personal against you."
There are three points I want to make relating to Christians who say this.
1.
First and foremost, it is personal.
The problem is that this statement of belief is a categorical condemnation of the intimate partnerships of gays and lesbians, a pronouncement to the effect that their loving relationships are a sin against God that
ought to be
torn apart. The problem is that this statement implies that gays and lesbians should be systematically marginalized in society, that they ought to be excluded from participation in the most basic social institution, and so forever kept at the margins of full citizenship.
Imagine that you are married to someone you love with all your heart. Imagine that you have been together for years, supporting each other through life's challenges. Imagine that your marriage adds depth and meaning and joy to your life. And now imagine that there is a person who is committed to breaking you and your spouse apart, to seeing your marriage dissolved.
What would you think if they said, "It's nothing personal"? Maybe they're committed to it, not because they have anything against you specifically, but because their religion tells them there is something wrong with your marriage. That's a different motive than overt hostility, but it doesn't change what they're committed to. It may not be personal
for them
, but it affects you in the most intimately personal way imaginable. It cuts to the core of your personal life. It is very, very personal.
And the personal effects would be devastating, which leads to my second point.
2.
Beliefs can be unloving.
Standing by certain beliefs can affect people's lives. And this means that standing by a belief can be loving or unloving towards your gay and lesbian neighbors. To stand by the belief that all gay/lesbian sex is wrong is to be committed to the systematic social marginalization of gays and lesbians, and to be committed to ending their meaningful, loving intimate life-partnerships. In the face of that, an assurance of love and friendship and a promise not to "bully" can sound pretty darned hollow.
Of course, we don't always
stand
by our belief. But if we do more than pay lip service to them, our beliefs will affect how we live our lives, the choices we make--and those choices can impact others, sometimes in devastating ways.
Living out a belief can be a very loving thing to do. It can also be a very unloving thing. Christian love isn't just about trying to maintain certain warm inner feelings. Christian love is far more demanding than that. It makes demands on how we treat our neighbors. A sincere desire to show love to them isn't enough if our actions devastate their lives.
And standing by the belief that all same-sex love is sinful can be devastating.
Let me explain what I have in mind with an analogy I've used before. If you sincerely believe that all childhood play is categorically sinful and act accordingly, you will fail as a parent. You will fail to treat your children in the loving ways they deserve, no matter how much affection you feel for them in your heart. Your children will grow up in stifling conditions that crush their creativity and their spirits. They will enter adulthood handicapped and full of resentment.
This is the counterpoint to the saying that you can "love the sinner while hating the sin." Sometimes, taking something to
be
a sin is unloving. A parent who takes play to be sinful is guilty of sin when they act on that belief. Is the same true of someone who takes all same-sex sexual intimacy to be sinful?
Yes. My experience with my gay and lesbian neighbors is unswerving on this. I've seen the devastating effects of the conservative Christian view on their lives. I've witnessed how it contributes to the high rate of gay suicide. There is no doubt in my mind, none at all, that
the traditional Christian teaching about homosexuality damages human beings in tangible and often soul-crushing ways--
no matter how well-meaning the Christians who stand by this teaching may be.
To categorically condemn homosexuality is to commit a sin against your gay and lesbian neighbors, a sin of no small gravity. If you commit that sin, I will keep on loving you. You may be oblivious to the scope and severity of your sin, as I am oblivious to some of mine. But out of love for you I will explain why I think what you're doing is wrong, and why it is so damaging, to the best of my ability. I hope you will return the favor (although I encourage no one to blindly accept criticism before thinking honestly and carefully about it).
If I tell you that I think what you're doing is ruinously harmful, I am not doing the same thing to you that you are doing when you do something ruinously harmful. Don't accuse me of name-calling or stereotyping, but consider thoughtfully whether there is any truth to what I say. Don't take my word for it: Go out and listen to the life stories of your gay and lesbian neighbors. Not just one gay or lesbian neighbor, but a wide range of perspectives.
While you're working up the courage to do that, consider a thought experiment that may give you a foretaste of what you'll hear. Imagine that any time you fall in love, your community will condemn you for acting on that love, calling it sinful no matter how you act on it. It doesn't matter how committed, loving, monogamous, or faithful you are. In fact, if you are committed to the partner you love, they will see that as a commitment to
sin
. If you build something precious, working hard to nurture your love, it will be dismissed as depraved.
Under those conditions, might you be less likely to form healthy intimate partnerships? Might you be more likely to fall into patterns of unhealthy sexuality? Might you be more prone towards depression? Might you begin to loathe that part of yourself that falls in love?
Of course you would.
Conservative Christians who really believe that all homosexual acts are sinful, who do more than just pay lip service to the teaching, are working hard to make sure that all of their gay and lesbian neighbors have this kind of experience.
I've heard it said that opposing "homosexuality" is like opposing alcoholism. It's true that condemning some actions as categorically sinful (such as excessive drinking) is a way of showing love. But that doesn't mean this is true for every action you might choose to condemn (as my childhood play example should make clear). So how do you tell the difference?
You don't consult people's desires. After all, alcoholics really do want to drink, just as much as children want to play. So how do you tell the difference? You observe how people's lives go. Love demands attention. You pay attention to the effects on their lives. Alcoholics do so much better in life when they abstain from drinking. The same isn't true for children who abstain from play.
If you pay sustained, loving attention to gays and lesbians who have set aside the categorical condemnation of homosexuality and who have formed stable, intimate partnerships with a person of the same sex--well, they look like happily married heterosexual couples. Their lives are the richer for the love they've found.
Compare that with the legacy of damaged souls--bitter, angry, suicidal--who have internalized the prohibition on same-sex intimacy.
If you ignore all of this, paying more attention to the most literal interpretation of three isolated, peripheral biblical text than you do to real effects on the lives of your gay and lesbian neighbors, then you care more about those isolated texts than you do about your gay and lesbian neighbors. Allegiance to what is peripheral has trumped allegiance to what is central, namely the law of love.
Is that believing "the Bible"? This leads to my last point.
3.
The Bible is a complex collection of texts with varied messages, which can be interpreted in many ways--and the nature of biblical authority is controversial even among Christians.
The books of the Bible were written by many authors over a very long period of time, redacted and collated at various times in history. The Bible we have today isn't a single voice but a collection of witnesses testifying to their experience of God operating in the world at various times and places in history. And the mode of that testimony is varied. Because of the tensions and variations and ambiguities in that text, there are numerous and competing understandings of what allegiance to the text requires.
When you say you "believe the Bible," you are therefore obscuring an inescapable element of human choice. Humans have to choose how to approach the Bible, what kind of authority to attach to it, what interpretive strategy to bring to bear on it. If you believe that "the Bible" condemns all forms of same-sex sexual intimacy regardless of how loving or monogamous or faithful, it is because you have made certain choices--or allowed others to make those choices on your behalf and then chosen to follow them blindly.
Either way, you are responsible for what you believe. If your beliefs drive your gay and lesbian neighbors to suicide or underwrite systematic social discrimination, you can't beg off responsibility for that. You chose what to believe. And you have the freedom to change what you believe.
And you have a responsibility to choose wisely.